Access to Finance for a Just Development
Salon: No Women — No Future
February 27, 2023
SAP Data Space, Berlin
Together with Agency for Business and Economic Development (AWE), Global Perspectives Initiative (GPI) brought together different perspectives from investors, founders, banks and politics to discuss what obstacles remain for women in starting their own companies and what challenges remain in accessing finances and investments.
On the African continent, women contribute significantly to building a sustainable economy. In fact, they are considered the backbone of economic growth and stand at the core of development. However, they face significant obstacles since they often do not have sufficient resources and access to realize their full potential. Aya Chebbi shared a video message, especially highlighting the need for resources, including technology, and integrating the youth of the African continent. The experts Christiane Laibach, Pauline Koelbl, Leago Takalani, Benjamin Knödler discussed these aspects in more depth during the main discussion.
In conversation with ...
Deborah Choi
of
Founderland
: "I wish I had more rolemodels. In many ways, I was very lucky to stumble into entrepreneurship in the university context. Where there is [...] not so much risk. It's a space to explore what might be my career path."
Pauline Koelbl
of
ShEquity
: "It's a no-brainer that if you want to really have the continent moving forward, you need to be investing in women. [...] Investing in women in Africa is not a charity case, but a smart business."
Leago Takalani
of
Luvhone Engineering and Consulting Partners
: "Women are much more collaborative. And I think that's key in the world we live in. Because, most of the work we do, especially in the space sector, we find that you have to collaborate with international partners."
Action Recommendations
Access to Capital

A woman's access to capital is not a woman's problem, it's a society issue. It presents that there is a lack of opportunity to women to engage in the economy and a need to provide them with resources.

Investment in Women

Investing in women is a business case. Investing in women can enlarge the markets and spur economic growth.

Local Funders

There needs to be investments to allow companies to scale up. One specific recommendation was channeling money to local founders and indigenous funds.

More Diversity

There needs to be more diversity in capital locators to address the gender funding gap on the African continent. There are clear correlations between who decides to get funding and who gets funding.

Feminist Development Policy

Working with governments and on multilateral engagement is crucial. The German government has implemented a feminist development policy, which exactly highlights the need for women in entrepreneurship as a point of action.

Demystification of Risk

Lastly, de-mystify the international risk perspective of investing on the African continent. Conversations such as this event are crucial to change the understanding and narrative of investing in Africa as an opportunity for economic return, not charity.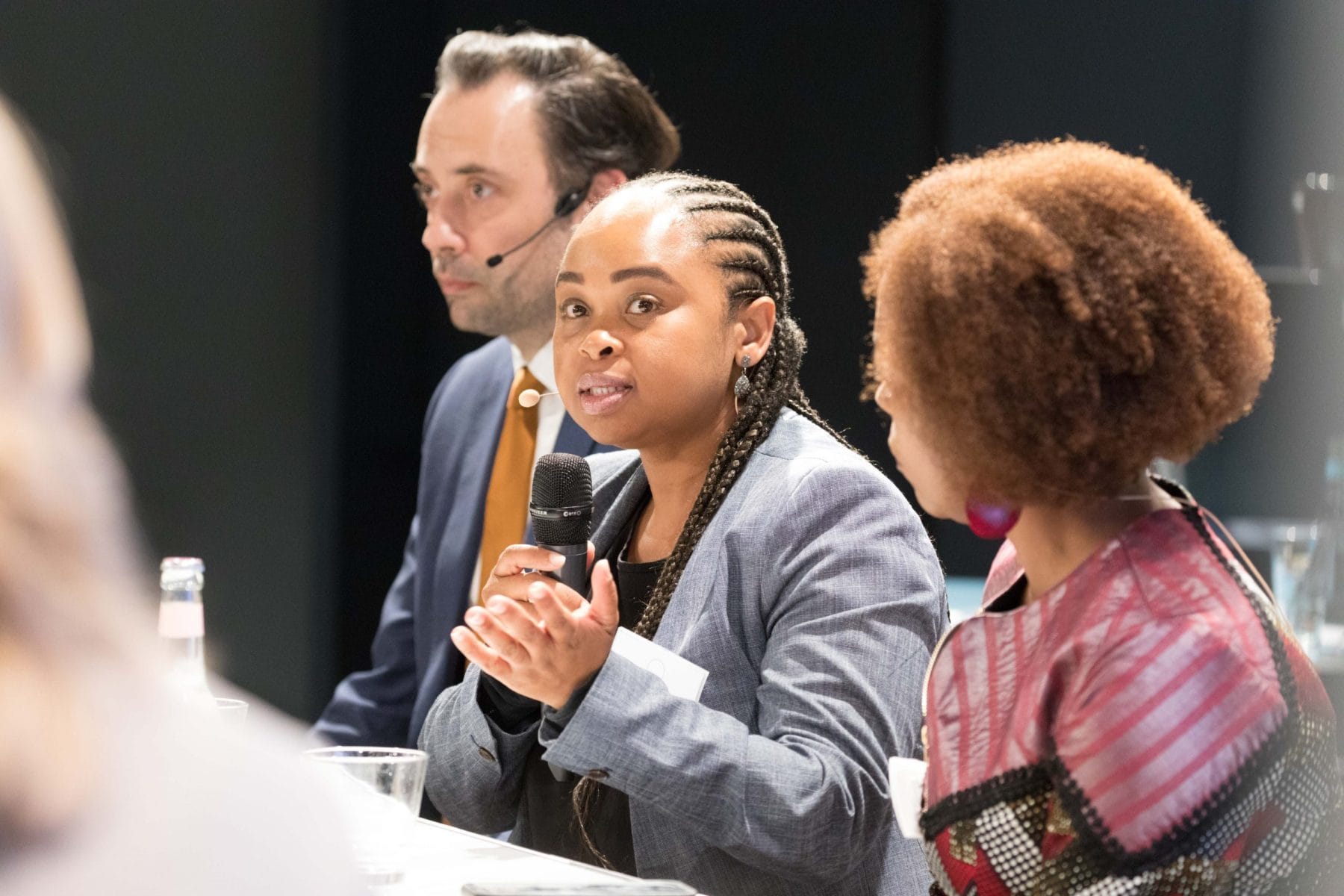 What does the future hold for women in business on the African continent?
Experts Benjamin Knödler, Leago Takalani, and Pauline Koelbl at Salon "No Women - No Future"
Sprecher:innen
Leago Takalani
Founder, NewSpace & CEO, Luvhone Engineering and Consulting Partners
Salon
Continuous dialogue creates awareness for the urgent questions of our time. In salons, renowned experts open the discussion with our selected guests from business, politics and society.